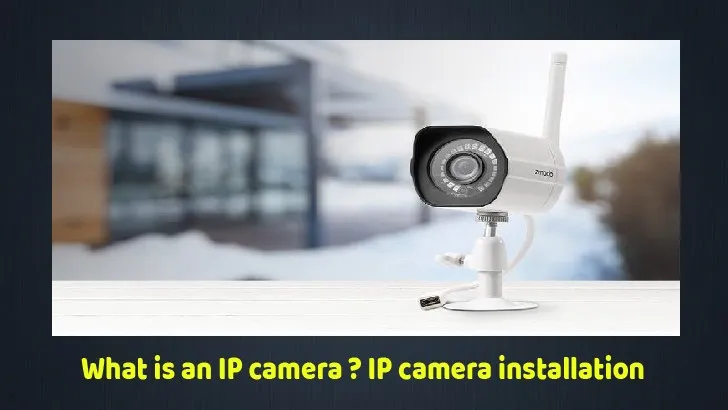 Nowadays, almost every person uses camera for various tasks. Cameras are commonly used for photography, video production, security, traffic control, record keeping, witnessing and movement control. In view of the increasing criminal activities and crimes around the world, the installation of CCTV cameras is very important these days. If you want to secure and monitor your home, office, property, etc., then you must install CCTV (IP Camera) cameras. Most businesses and organizations are already using CCTV camera systems to monitor their working hours and employee activities. Currently, traffic police are also using CCTV cameras to detect red light jumping and speeding vehicles. However, there are many types of cameras like smartphone cameras, DSLR cameras, digital cameras, CCTV cameras. But when we talk about cctv cameras, analog and IP cameras come to mind. In today's article, we will discuss with you in detail what is an IP camera, how it works, advantages and disadvantages of IP cameras and how it differs from analog cameras.
What is the full form of IP Camera ?
The full form of IP camera is Internet Protocol camera. This type of camera is also called internet camera or network camera.
An IP camera, or network camera, is a type of camera that plugs directly into your network router and allows you to securely view video footage from any remote location over a data network.
As technology is developing in every field, cameras with modern technology and various features are constantly coming to the market. In continuation of that, IP cameras have been made from the previous analog CCTV cameras and new versions of IP cameras are constantly being made. Currently this IP camera is used for many purposes.
What is IP Camera ?
An IP camera (Internet Protocol Camera) is a type of digital video camera that sends and receives data over an IP network or the Internet.
An IP camera converts video signals into digital signals and sends the video data to a network video recorder (NVR) through a network bus. You can use IP cameras in addition to network video recorders. You can connect the IP camera directly to a network switch or router.
With NVR, you can easily record camera footage and save the recorded video for as long as you want. IP Camera can be used both with NVR and without NVR.
IP cameras are connected to the Internet, so you can watch the footage of these cameras from anywhere in the world. You can also connect this camera to your smartphone, tablet or laptop and after that you can watch the live footage of this camera through internet from anywhere.
In simpler terms, an IP camera is a type of camera, which is connected to the Internet and you can access it from anywhere through your smartphone, tablet or laptop whenever you want.
History of IP Cameras
The first centralized IP camera was released in 1996 by Axis Communications. It was called Axis Neteye 200. It uses a custom web server internal to the camera. In late 1999, the company began using embedded Linux to run their cameras. Axis also publishes documentation for its low-level API, called "VAPIX", which is based on the open standards of HTTP and Real Time Streaming Protocol (RTSP). This open architecture was intended to encourage third party software developers to develop compatible management and recording software. The first decentralized IP camera was released by Mobotix in 1999. The camera's Linux system has video, alarm and recording management functions, thus the camera system does not require licensed video management software to manage recording events or video. The first IP camera with onboard video content analytics (VCA) was released by Intellio in 2005. This camera was able to detect various events, such as a specific object. Later, the IP cameras were gradually updated to reach the current state.
Use of IP cameras
IP cameras are generally used for surveillance. It plays an important role in maintaining security.
If you are a shop owner and you are out of the shop occasionally, you can install IP cameras in your shop and view live footage of your shop through any device (phone, tablet, laptop) you have, whenever you want.
By doing this you can track your store staff and your customers. Apart from watching live footage, this camera can also record all the footage, which you can watch later whenever you need.
The advantage of recording is that if something untoward happens in your store today (eg – theft, robbery), you will be able to see what happened and who did it by watching the camera footage.
You can use this type of camera anywhere like – hospital, home, hotel, office, school and college etc. It is very necessary and proper to use this type of camera nowadays.
If you want to keep your home, shop or organization safe, then you should definitely use IP cameras.
IP camera installation
The following items are required to install the IP camera.
IP camera
Network Video Recorder (NVR)
Cat-6 network cable
Storage device (hard-disk)
Network switch
Display device or monitoring device (LED TV or monitor)
RJ-45 Connector
First, fix the Cat-6 network cable to the wall with a bar clip. Then drill holes with the help of a drill machine and install the IP camera on the wall or ceiling, wherever you need. Then you set the IP camera on the wall with a screwdriver.
Now attach the RJ45 connector to one end of the Cat-6 network cable using a crimping tool. Similarly, connect the RJ 45 connector to the other end of the network cable. Now plug the RJ 45 connector into the network port of the IP camera and connect the other end RJ 45 connector to the Poe switch or router.
Then you can connect the Poe switch to the network video recorder using the network patch. You can connect NBR to monitor with HDMI cable to view live CCTV footage on LED TV or monitor.
Why Choose IP Camera ?
An IP camera allows you to view live video footage from anywhere remotely on your local computer and without an NVR (Network Video Recorder). These cameras are very easy to install and configure and can be installed anywhere.
What are the advantages of IP cameras ?
Following are the advantages of IP cameras –
Accessibility:- If you are connected to the internet, you can access your IP camera anytime, anywhere. IP Camera allows its users to view their live video from any computer or mobile device connected to the Internet.
Better video quality – The IP camera supports video up to 4K resolution. Due to which the video quality of these cameras is very good. You will also find IP cameras in the market with different resolutions, just like other cameras. The better resolution camera you get, the better your video quality will be.
Storage – It does not have its own disk or tape. All IP camera footage can be stored both locally and digitally. You can save the video footage to your hard drive if you want or you can save the video to the cloud as well. The feature of storing video in the cloud has made IP cameras much more popular.
Video Sharing – In addition to watching live footage from any device, you can send that video anywhere in the world.
Low Maintenance – The maintenance cost of IP cameras is very low. An IP video monitoring system reduces user costs by eliminating the need for time-lapse video equipment, tapes, cataloging, etc.
Flexibility – Each analog camera must be directly connected to the DVR. But IP cameras (those in the same general area) can be connected to the same switch which is connected to the NVR (Network Video Recorder) by a cable. You can also connect switches to switches to further increase your camera's volume and monitoring area. This reduces the amount of cables when setting up the system and allows more cameras to be connected seamlessly.
PoE Switch – IP video monitoring systems use a PoE (Power over Ethernet) switch, which in addition to driving signals from the cameras via Cat-5 or Cat-6 cables, supplies power to the cameras. Due to which the need of additional power supply is eliminated.
Disadvantages of IP cameras
Following are the disadvantages of IP cameras –
Expensive – An IP camera is more expensive than an analog camera.
Storage – IP cameras are high resolution cameras, due to which the video quality of these cameras is very good and due to good video quality, the file size of these videos is very large, due to which more storage space is required to store these video files. .
Difficult to use – IP cameras are somewhat complicated which makes them relatively difficult to use. The installation process of some IP cameras is also quite complicated. But they are not too complicated. There will not be much problem in using them if you have general knowledge about computers.
Ways to protect against IP camera hacking
Since the IP camera is connected to the Internet, it is more likely to be hacked. IP cameras can be hacked in various ways such as physical tampering, phishing or scamming, malware, password cracking etc. So the following ways can be adopted to protect the IP camera from hacking.
Password protection
Use dynamic IP addresses
Keep everything updated
Each IP camera is directly wired
Never download unrated software
Restrict access to IP camera systems
Installation of secure surveillance cameras
Difference Between IP Camera and HD Camera
HD camera –
Digital cameras are an improved version of analog cameras. Which supports Full HD video from 720 pixels to 1920 pixels. A digital camera is installed in a DVR i.e. Digital Video Recorder.
Such cameras cannot be accessed remotely. Rather, full digital video recorders are accessed. Digital cameras ranging from 2 megapixels to 8 megapixels are available in the market.
IP camera –
The IP camera is connected to a network video recorder (NVR). An IP camera works based on Internet Protocol. With the help of IP address, IP cameras can be accessed online through remote access from any part of the world. Each IP camera has a different IP address. The IP camera supports Full HD video and 4K video.
In IP cameras you can zoom the video several times, but not in digital cameras. IP cameras are slightly more expensive than digital cameras. IP cameras are available in the market starting from 2 megapixels to 12 megapixels.
Difference Between IP Camera and CCTV Camera
Security cameras currently available in the market include CCTV and IP cameras. While each is highly effective in their own niche, the two differ in design, installation, security, and more. So it is important to know the difference between these two types of cameras to know which system you need. Below are the differences between CCTV cameras and IP cameras –
| | |
| --- | --- |
| IP Security Camera | CCTV security cameras |
| Uses Ethernet Cat5 or Cat6 cable if not wireless for connectivity | Uses twisted pair, RG59, or RG6 coaxial cables for connection |
| Can use cellular, Wi-Fi, or LAN | Can only use a wired connection |
| Can use power over Ethernet cables | Can be powered by parallel cables |
| An NVR processes video footage internally before sending it | Only captures video footage and sends it to a DVR for processing |
| Can save internal footage | Internal footage cannot be saved |
| Installation is cheap due to lack of labor | Installation is usually expensive due to the excessive labor required |
| Advanced capabilities including motion detection, video analysis, and various other features | Enhanced capability in low light environments and durable exterior design |
| Uses and transfers digital data | Uses and transfers analog data |
Last Word
From today's discussion, you must have understood the importance of IP cameras nowadays. So whether you have your home, institution, shop or any place where you always want to keep an eye and where you need security, then you can set the IP camera there and watch the live footage of Sekhanka whenever you want.
In today's article, we have tried to give you various information about IP cameras. If you have any questions or comments about the article, you can tell in the comment section.